Post-Brexit Deep Dive:
EU Work Authorisations Untangled
Post-Brexit Deep Dive: EU Work Authorisations Untangled
We're continuing our work authorisation deep dive series with an overview of the process for UK citizens to obtain work authorisation in an EU country.
Post-Brexit Work Authorisation Changes
As we discussed previously, EU nationals working in the UK have a very clear set of immigration rules and regulations to follow to obtain a work permit in the UK. Need to catch up on UK work authorisation rules for EU nationals? Read last week's feature here.
On the other hand, UK nationals who need to travel, work or live in the EU face more complex travel and immigration scenarios. Because the EU does not have a single legislation in place, each of its 27 member states enforces its own immigration system and laws. As such, there is no "one size fits all" approach for UK nationals travelling to the EU and these travellers may encounter different immigration processes for each of the 27 EU countries.
Very generally speaking, however, for situations in which a UK national needs to obtain work authorisation in an EU nation, there are typically two application routes: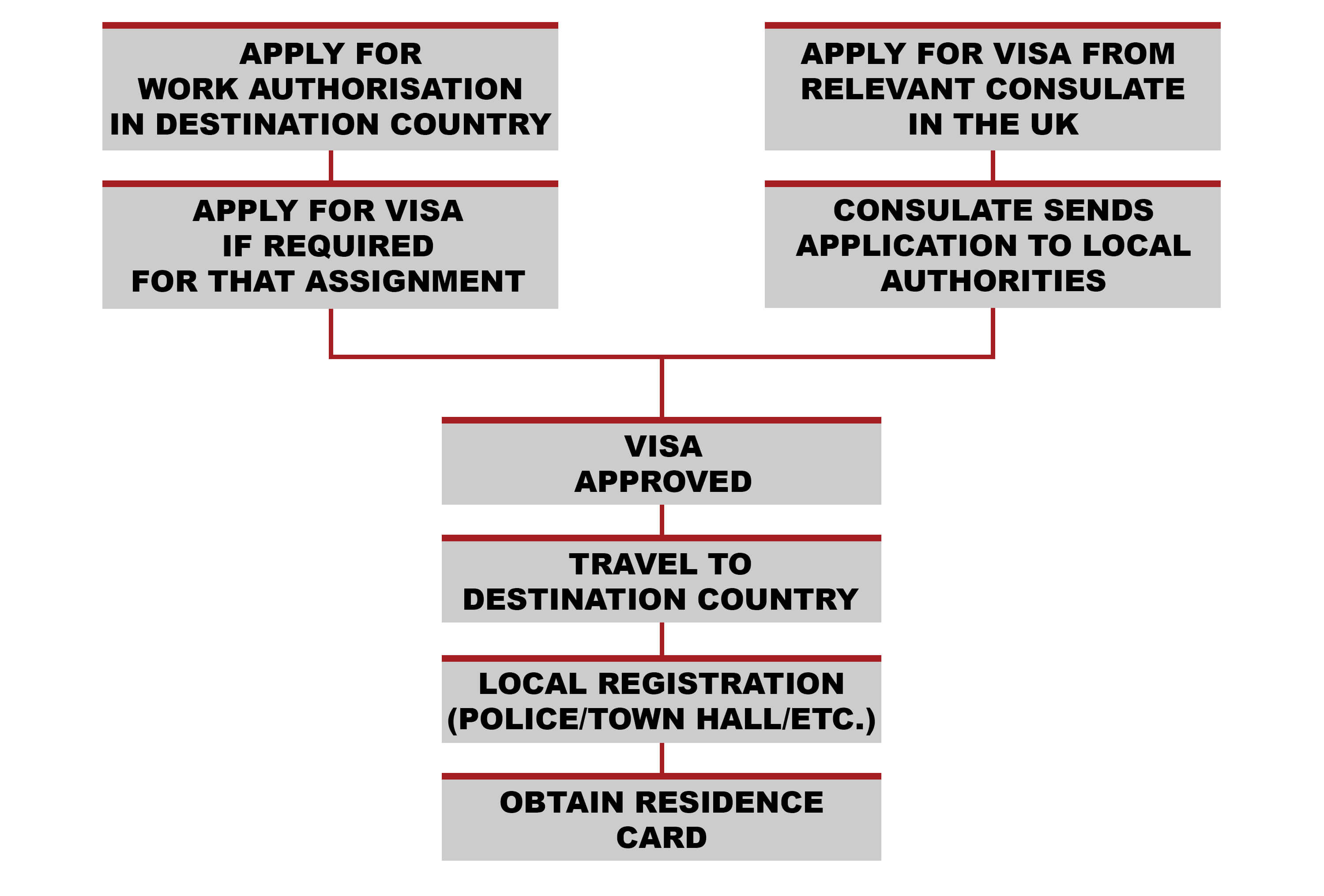 *Please note the above chart shows a very generalised immigration process. Some steps may or may not be applicable depending on the country and some countries may require additional steps to be completed.
EU-UK Trade and Cooperation Agreement (TCA)
Although the EU and UK have sought to simplify travel requirements with the EU-UK Trade and Cooperation Agreement (TCA), EU countries still have the authority to set and manage their own immigration regulations and processes. When it comes to UK citizens travelling into the EU, this means that:
An assessment of activities will be required per EU country (get one here); and
Activities that are allowed on business status in one country may require work authorisation in another.
CIBTvisas' Post-Brexit Travel Assessment offers individuals and organisations a quick, cost-effective, and easy-to-implement solution to navigating the challenges of Post-Brexit business travel.
Adapting to the New Immigration Landscape – What You Can Do to Prepare
Allocate budget for work authorisation applications
Register at immigration authorities in the EU where this is required for, or facilitates, easier immigration processes
Educate your teams about what a Business Visitor is lawfully able to do in the UK and in each EU member state and when work authorisation may be required
Develop processes around possible Business Visitors to include an assessment of the proposed business activities to ensure compliance with immigration rules
Keep track, and assess the activities, of all employees regularly travelling in the UK and EU
Ensure Business Visitors in the EU know how to calculate their "90 days in any 180-day period" stay limitation after the transition period
Ensure that you are up to date on business permitted activities in light of the EU-UK Trade and Cooperation Agreement
Get familiar with the work permit procedures for third country nationals in each EU member state
Contact your dedicated CIBTvisas Account Manager to address your concerns and ensure your travel programme is compliant with the new travel landscape
CIBTvisas stands ready to support you and your travel programme. Contact your dedicated CIBTvisas Account Manager today for more information. Don't have an Account Manager? Contact us.
Next week, we'll examine a reoccurring post-Brexit surprise plaguing Travel Managers in this transformed environment.
This publication is not intended as a substitute for legal advice. Readers are reminded that immigration laws are subject to change. We are not responsible for any loss arising from reliance on this publication. Please contact CIBTvisas or Newland Chase should you require any additional clarification or case specific advice.
CIBTvisas is part of CIBT, the leading global provider of immigration and visa services for corporations and individuals with expert immigration and visa professionals, attorneys and qualified migration consultants located in over 70 offices in 25 countries.
With thirty years of experience, CIBT is the primary service provider to 75% of Fortune 500 companies. CIBT offers a comprehensive suite of services under two primary brands: Newland Chase, a wholly owned subsidiary focused on global immigration strategy and advisory services for corporations worldwide and CIBTvisas, the market leader for business and other travel visa services for corporate and individual clients.
---
Stay Up To Date
Stay up to date on the latest Brexit business travel news from the visa experts at CIBTvisas with the signup form below.